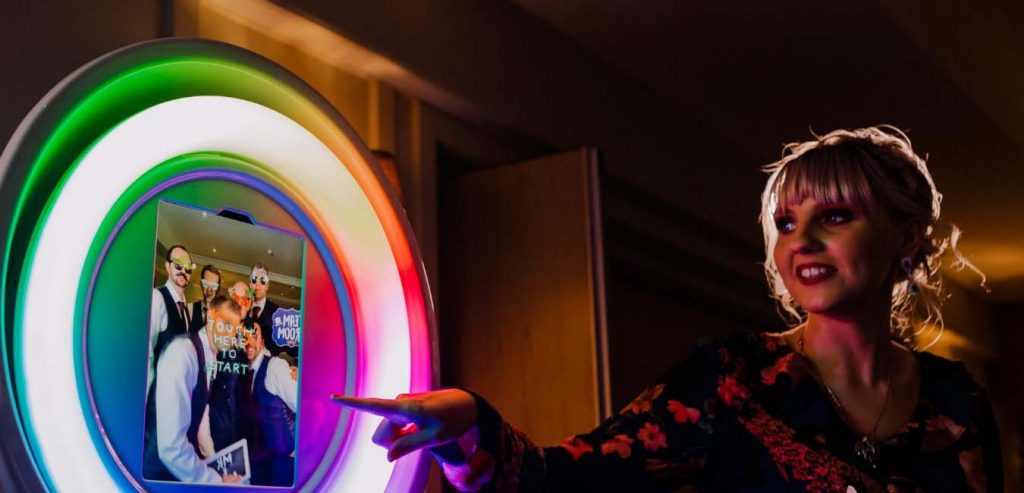 OMG Social Booth Features
Apple iPad Photographs
A winning combination of Apple's high resolution iPad camera and Fotomaster's world-class software.
Amazing Attendants
Our Attendants know how to get the best photos from your guests and bring the fun!
Roaming Photos
OMG Social's detachable headpiece means your Attendant can roam the room and take photos away from the booth area.
Customised Everything!
Our Graphic Designer creates prints in consultation with you to match your invitations, colour scheme, or party theme.
Animated Screen Prompts
Your guests know what's happening at all times by animated messages on the booth screen
Boomerang and Video Recording
Guests can choose to take a video image rather than a photograph. Or you can decide not to include this feature. The choice is yours!
Photo Retakes
Guests can decide they'd like a do-over if they're not happy with a photo.
Text, Email or Print
Guests can access their photos instantly by texting or emailing to themselves so they can easily share to their friends or social media. Gloss prints are also available if you'd like them.
Vibe Package
$660
(inc. GST)
No-Frills Fun
3 hours operation
OMG Booth Attendant
Unlimited photos
Animated screen prompts
Text or email photos
Customised digital prints
Video and Boomerang GIFs
RGB Ring Lighting
Image gallery after event
Travel within Sydney metropolitan areas
Party Package
$770
(inc. GST)
Flexible to suit most party types
3 hours operation
OMG Booth Attendant
Unlimited photos
Animated screen prompts
Text, print or email photos
Customised print design
A 4×6″ print for every person in the photo
Gold or Silver Sequin Backdrop
Props kit
Video and Boomerang GIFs
RGB Ring Lighting
Image gallery after event
Travel within Sydney metropolitan areas
Premium Package
$990
(inc. GST)
Ideal for Weddings or Corporate Events
4 hours operation
OMG Booth Attendant
Unlimited photos
Animated screen prompts
Text, print or email photos
Customised print design
A 4×6″ print for every person in the photo
Choose from our range of Sequin or organza backdrops
Props kit
Video and Boomerang GIFs
Roaming Photos
RGB Ring Lighting
Image gallery after event
Travel within Sydney metropolitan areas
Features
Vibe Social
Party Social
Premium Social
Booth Attendant
Included hours
3
3
4
Extra hours
$99
$110
$110
Attendant
Unlimited photos
Customised Digital Prints (Any size)
Email and Text Sharing
Video recording
Gloss Photo Prints
N/A
4×6″ Paper Prints (3 Photos)
N/A
4×6″ Paper Prints (Single Photo)
N/A
$55 extra
$55 extra
Roaming Photos
N/A
N/A
Sequin backdrop
$55 extra
Props and signs
$55 extra
Online Gallery
Leather bound memory album & signing station
$75 extra
$75 extra
$75 extra